Book a Weekly Sailing Tour From Corfu to Lefkas
Lefkada is one of the most breathtaking Greek islands and it is located in the heart of the Ionian sea, connected with the mainland by a small bridge. Being easily accessed by car and boasting one of the most wonderful natural landscapes and some of the most scenic beaches, Lefkada Greece (or the "Caribbean of Greece", as it is also known as) is the absolute dream destination for those who are into exotic islands.
What to do in Lefkada?
An island that is gradually developing in tourism, things to do in Lefkada vary. The most popular sports on the island are windsurfing and kite surfing due to the strong winds that blow in some bays in summer afternoons. The best spots for surfing in Lefkada are the beaches of Agios Ioannis and Vassiliki. There are some surfing centers there that rent equipment and offer courses.
Another sport that is developing in Lefkada island is diving, but still on slow steps. Some beaches, including the beach of Nydri, are also organized with water sports centers and fun games.
The countryside of Lefkada is mountainous and offers great chances for hiking and mountain biking. Old hiking trails have been signposted and lead to mountainous villages, small forests, and waterfalls. Mountain biking and cycling tours are also organized by local companies and vary in difficulty. Some cycling tours also include the neighboring island of Meganisi.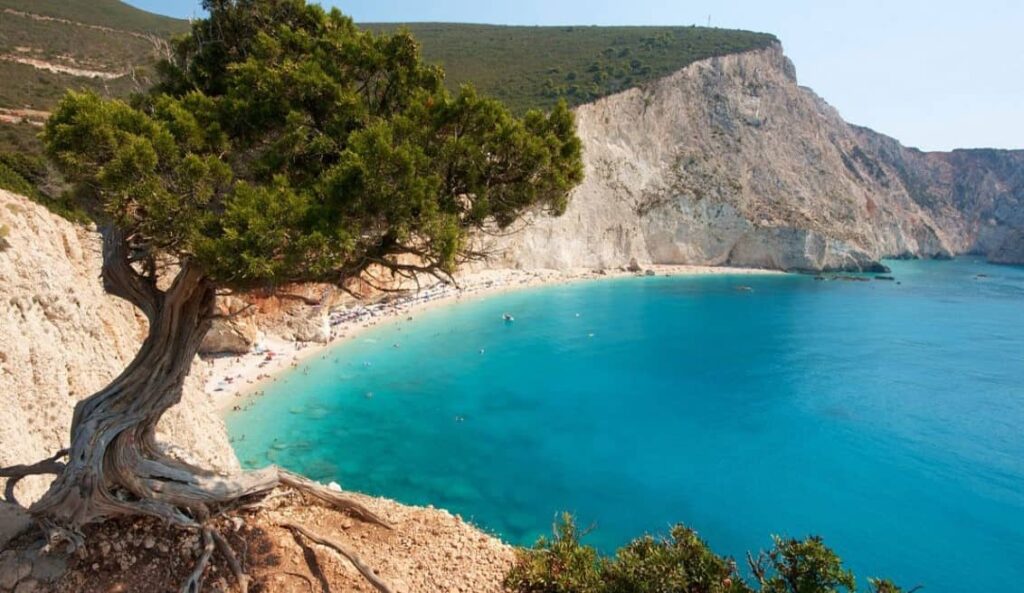 Where to go for a drink or a triditional meal at Lefkas?
Most places to eat and drink in Lefkada are found in Nydri, Vassiliki and Lefkada Town, the three most popular villages on the island. Traditional taverns are also found in almost any village of the island and of course in the seaside villages of Agios Nikitas, Lygia, and Sivota. These taverns have local dishes and excellent fish food. For clubbing, visitors should head to Nydri, while nice lounge bars are found at the port of Lefkada Town. The rest of the villages have almost no night venues, except for few cafe bars in Vassiliki and Sivota.
Where to swim in Lefkas?
Known for the amazing landscape and the exotic water, beaches in Lefkada are considered among the most beautiful in Greece but also in the Mediterranean Sea. Porto Katsiki, Egremni, and Kathisma are the most famous Lefkada beaches, while Agios Ioannis and Vassiliki are great places for windsurfing and other watersports. In general, beaches on the western side of the island are the most impressive ones due to their deep blue color.
Nice places to see in Lefkada include the Medieval Castle of Santa Maura in the Town and the Waterfalls of Nydri. From Nydri take an excursion boat to other islands in the Ionian Sea, such as Kefalonia, Ithaca, and Meganisi.
What sailing boat should I charte for a weekly tour from Corfu to Lefkas?
The fleet of Minas Yachting is based at Gouvia Marina in Kerkira. The following yachts and catamarans are available for a weekly sailing tour from Corfu to Lefkas Island:
Contact us at +30 2661044244, +30 2661035295 or via e-mail at info@minas-yachting.com and rent your sailing yacht or catamaran for a unique summer across the Ionian Islands!