Hire a Weekly Sailing Tour From Corfu to Mourtos
The Greek fishing village of Mourtos is located on the Greek mainland opposite the southern coast of Corfu. It is three miles south of Plataria and six miles south of Igoumenitsa. It has recently gained popularity among visitors, since the little harbor now accepts not just fishing boats but also yachts. On the quay there are numerous bars and restaurants for tourists.
During the season, the dock is congested with charter and cruising yachts equally, making it difficult to find a spot. The port also includes a small marina, half of which is utilized by local boats and boats on board, and the other half by visitor yachts. The marina is partially equipped with permanent moorings, although some yachts must use their anchors. There are several anchorages nearby, including around the islands of Sivota, which offer good shelter in the prevailing winds.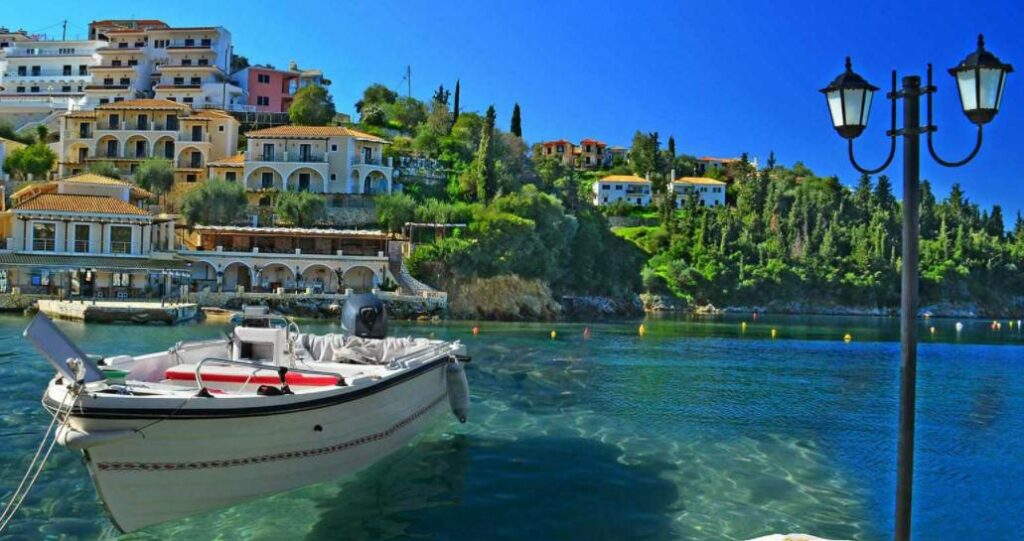 Swim at the crystal clear waters of "Pisina" beach
On the small uninhabited island, which named Mavronoros or Mourtos, there is a "Pool" (Pisina in greek). This "pool" is not on the mainland, and to visit it you need a boat or a caique. This is called the Pisina beach, one of the best beaches in Greece, belonging to the island complex of Sivota in Thesprotia. As for the choice of its name, it could not be described as anything but accidental!
White sand and pebbles, surrounded by calm crystal clear turquoise waters, and dense vegetation with natural shading after midday hours, create the setting of a "pool of nature", which will surely be unforgettable for all its visitors. As for the "monotony" of its colour off the bay… the dark large patches of sea plants that spread along its length, give nourishment to its rich underwater "world", challenging you to swim with it. So if you let yourself go in its exotic waters, you will have the opportunity to swim in the company of the most intelligent fish you have ever encountered in your life and who will most certainly behave as if you were one of them!
Visit the Pirate's Cave
On the islet of Mourtos you can also visit the "pirates' cave" with its ornate stalactites on its roof. It is another typical "Ionian" cave in the west of the island that stands wide open in the sea. It welcomes you to swim in its cold waters with the mythological mermaids who used to stand proudly on the bows of pirate ships that previously sought safety in its concealed cave.
What sailing boat should I charter for a weekly tour from Corfu to Mourtos?
The fleet of Minas Yachting is based at Gouvia Marina in Kerkyra. The following yachts and catamarans are available for a weekly sailing tour from Corfu to Mourtos:
Contact us at +30 2661044244, +30 2661035295 or via e-mail at info@minas-yachting.com and hire your sailing yacht or catamaran for a unique summer across the Ionian Islands!